Welcome
KARRI COUTURE on Facebook
---
NEW LOCATION COMING SOON!!
We will be re-opening in south Arlington around the first of June. Our new location will be at 4720 S Cooper St., #5200, Arlington, TX 76017. We will be inside the new Gracie Lane, right next door to Chick-Fil-A (in the old Room Store building). More information coming soon!!
---
HOT, HOT, HOT!!! New watches in stock! Available in spring and summer's
HOTTEST colors!!

Custom Cadet Caps!! Order a custom cap, they have a lot of Swarovski BLING!!!
We can make pretty much ANY logo or team you want. Pee-Wee, Club, Select, Schools, College, Professional, Company logos, Awareness, Crosses, Fleur-de-Lis....just let us know!!


---
CUSTOM PENDANTS!
Completely customizable pendants!! Your favorite college, your child's school,your child's sport, your favorite saying (funny or serious)...the list is unlimited!! Once you purchase and your design is finalized, it takes about 3-5 days to complete (subject to chage due to number of orders received). Two sided with both sides BLINGED with Swarovski Crystals!! (Only one side is blinged on pendants with bows on top). THESE ARE A HUGE HIT THIS YEAR!!! Pictures do not do them justice! When my customers order them, they usually order a few at a time and give them as gifts. Take a look at a few examples we have here. Let us know if you are interested in ordering. If you have a special graphic you'd like put on one we can usually accomodate. The pendant is approximately 2 1/4". Double sided pendants blinged with Swarovski crystals are $34.99, Single side pendants are $24.99 and single sided pendants with large decoration and bow on top are $34.99. Small pendants (1 3/4") are also available, single sided $14.99, double sided $18.99.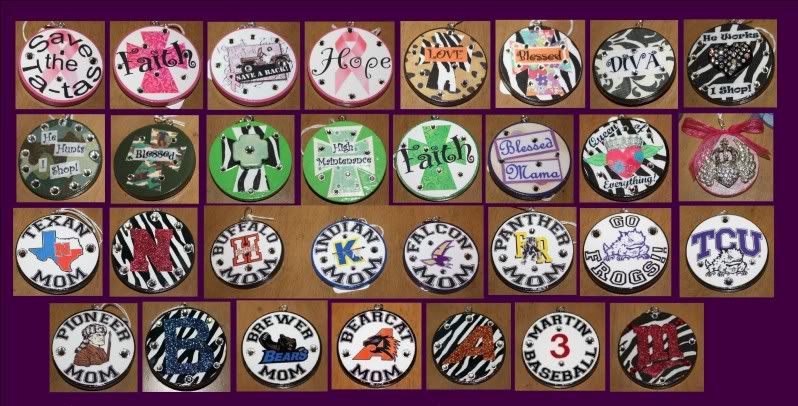 ---
---
Thanks for stopping by Karri Couture! We offer a wide variety of necklaces, earrings, rings, bracelets, fashion handbags, fashion apparel and pendants. If you're looking for something in particular and you can't find it here, just send us an email and we'll see if we can get it for you.
Items are being updated on a regular basis so check back often.
Thank you for taking the time to shop with us! We hope you enjoy your shopping experience with Karri Couture!